I
try
to redeem the time as best as I can. So if I'm shopping, waiting for my car, driving for more than ten minutes, waiting in a doctor's office, or what-have-you, I'll listen to sermons or lectures on my iPod.
I also like to read during waiting-times when possible, but I'm easily distracted. I am the sort who does not multi-task. Sometimes I can multi-thread, but seldom multi-task. (That's hardcore geekspeak; if you don't get it, it's really OK.)
The problem with so many of these places is they're full of distracting noise. They feel they must put in a television and have the dratted thing set on some mind-destroying daytime show, or play music like Barbara Streisand, Neil Diamond, or worse... if there is worse.
Not only am I unable to read with that kind of noise, but my happy is all gone, and I can hear the shrieks of thousands of brain cells as they die in agony.
So I also load instrumental music on my iPod. I
can
read, if certain sorts of instrumental music are being my "gray noise." Now, it can't be a soundtrack to a movie I know well (any Lord of the Rings movie, Star Wars, etc.), because then I'll visualize the scene.
So here are two I use to that end, for any of you who care. They are both largely high-energy, guitar-driven jazz/rock fusion style. There are mellower tracks and diverse styles as well. Both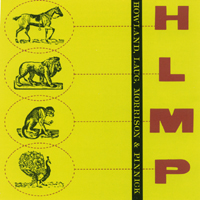 are helmed by Chicago's current lead guitarist, Keith Howland, a very talented young man. On the first, Chicago's current drummer (Tris Imboden) sets the beat. On the second, Howland is joined by lightning-fingered Chris Pinnick, who was one of the guitarists touring with Chicago after the death of the great Terry Kath. They are:
The Howland/Imboden Project

Howland, Laug, Morrison & Pinnick
The link takes you to
CD Baby
, a company which seems to specialize in more obscure titles. When I bought the CD's, the communications I got from CD Baby were absolutely hysterical, very clever. It made me want to buy more just for the fun of it. If you do, get back to me on how it is now.